For Teachers, Educators, & School Administrators
Detailed lesson plans, free trainings (CEUs), adaptive toolkit, supplemental materials, use of BikeMN equipment fleets…Learn how Walk! Bike! Fun! can work for your classroom and students!
For Parents, Volunteers, & Students
Bring Walk! Bike! Fun! home to your neighborhood! Guides and support for parents and community volunteers, fun activities for students…See how Walk! Bike! Fun! can keep working outside of the classroom!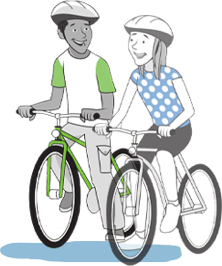 Apply to Host a Walk! Bike! Fun! – Part 2 training
By submitting this application you are expressing interest that as a host you will help coordinate with the Bicycle Alliance of Minnesota a successful date, assist in locating a suitable facility for the training, and help coordinate logistics for set-up. Hosts identify and invite stakeholders to the training, and may be identified as a follow-up contact.
Note: Completion of this application does not guarantee your community will be selected to host a training – selection is competitive and based on an internal scoring scale. The Bicycle Alliance of Minnesota reserves the right to select communities based on identified needs, engagement, and geographic distribution.
Success Stories