For Teachers, Educators, & School Administrators
Detailed lesson plans, free trainings (CEUs), adaptive toolkit, supplemental materials, use of BikeMN equipment fleets…Learn how Walk! Bike! Fun! can work for your classroom and students!
For Parents, Volunteers, & Students
Bring Walk! Bike! Fun! home to your neighborhood! Guides and support for parents and community volunteers, fun activities for students…See how Walk! Bike! Fun! can keep working outside of the classroom!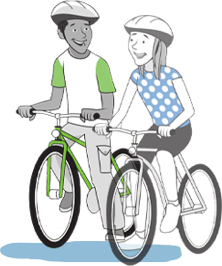 Success Stories